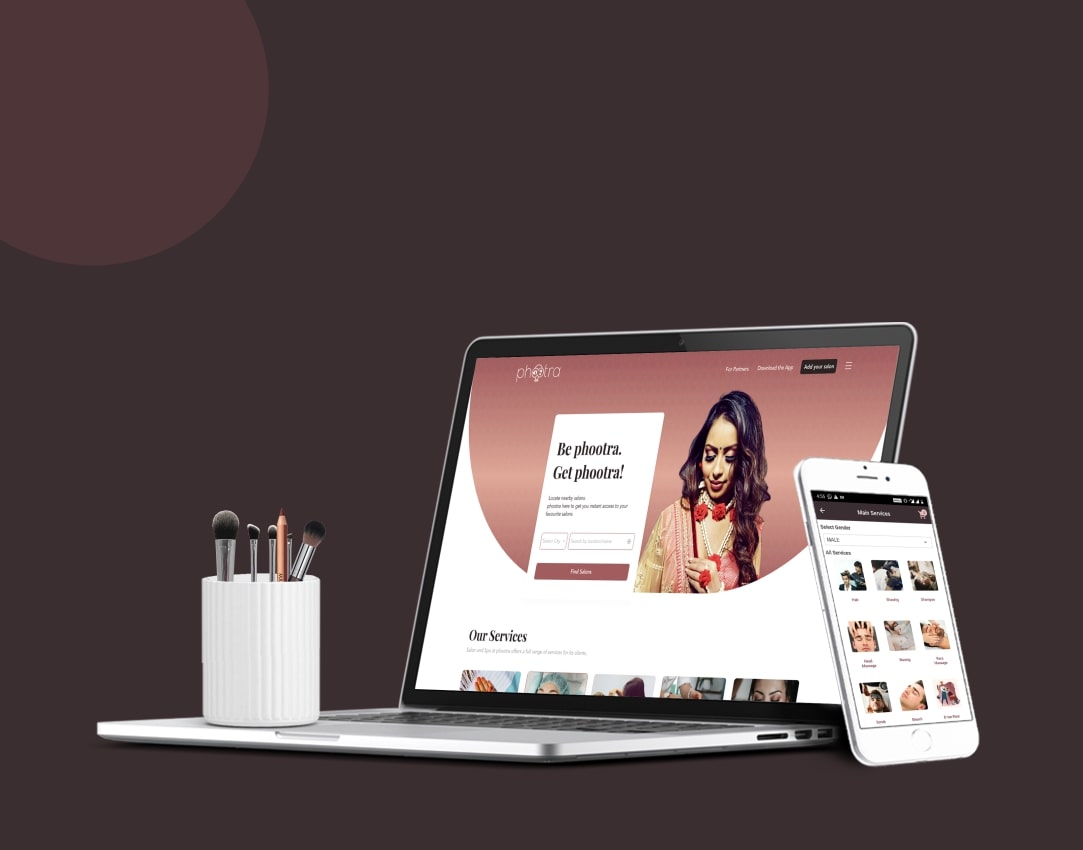 PHOOTRA- AN ONLINE SALON BOOKING APP
---
---
Beauty and wellness have always been people's topmost priority. Maintaining soft and healthy skin, voluminous hair, clean nails are a few of its significant aspects. It is believed that activities involved in maintaining beauty positively impact our emotional and physical well-being. They create self-fulfilling internal experiences that can result in decreased stress, as well as identifiable benefits to the body and brain.
Certainly, the standards have faced a magnanimous change now. With people shut inside their houses due to the wrath of the covid monster, beauty and wellness sessions have got their places changed. Our homes have become our new salons (We miss salons badly!!). Trying home remedies for acne-prone skin, waxing using creams and what not!!! But nothing can replace the treatment and facility that a salon offers.
Since the situation is getting better nowadays and salons and spas are getting sanctioned to function within a limited duration of time, It is high time now to book appointments for your favourite beauty salon services. Say a yes to a long beauty parlour session!! It's been a significantly long since we are managing our sessions (improper manicure, frizzy hair, tanned skin!!!) on our own. Be ready to get pampered for your essential beauty service at your nearest salon or spa booked through our app-"PHOOTRA".
Get your convenient slots booked for your much-awaited salon service through our online salon booking app- PHOOTRA. It is an online salon appointment application that provides the necessary facility for hassle-free booking of beauty and grooming services in your nearest salon center chosen as per your convenience. Therefore, it can be said that this is the most effective tool for pre-booking and pre-planning time slots at salons during covid-19 pandemic. Avoid the rush of people and enjoy your favourite service.
Phootra is a digital platform that allows salons and spas to provide their services and for customers to book appointments for the required beauty service online via a mobile app or a website widget. Further, these bookings can be managed at salons through an efficient booking management application that provides reminder notifications and keeps updated regarding new bookings.
Hence, Be smart…
"Skip the line, Book appointment online".
FEATURES OF PHOOTRA APP- 
-FOR CUSTOMERS
Secure login using mobile number and location-based salon search
Salon details, services and sub-services view
Multiple online payment options
Bookings done through website and mobile app
View confirmed bookings and get Sms/email notifications
-FOR SALON OWNERS
Daily booking management
Sms/email notifications for upcoming bookings
View booking history and upcoming bookings
User check-in and booking status update
BENEFITS OF USING PHOOTRA APP-
Easy and fast online salon booking procedure.
Queueless and time-saving facility.
Make appointments as per convenience and accessibility.
Enhanced customer experience by online booking service.
Better platform of service provision by salon owners.
Reminder notifications to keep updated.
Flexible digital payment methods offered.
LONG TERM GOAL- 
In this growing tech-savvy population, where everyone wants everything accessible via the Internet, we at Phootra, work towards providing salon and spa services through our online salon booking app. With services made hassle-free and easy to book, we aim to establish a wide-base platform for people to book appointments for their required beauty and wellness service at ease and comfort of their home.
In short, this is our objective-
"Be Phootra, Get Phootra."
Be- 
P – Pretty
H – Heavenly
O – One-of-a-kind
O – Opulent
T – Trendsetting
R – Radiant
A – Aesthetic…
through service booked from our app!! Have any of you booked an appointment through an online salon booking app? If yes, share your experience with us and if not, try booking through our app!! To know more, head to these links-
Download the app through-
Head to our social media channels-